Value: $997
If you've been doing phone or in-person sales for long, you know the nightmarish hassle it can be to track your leads, coordinate timing for sales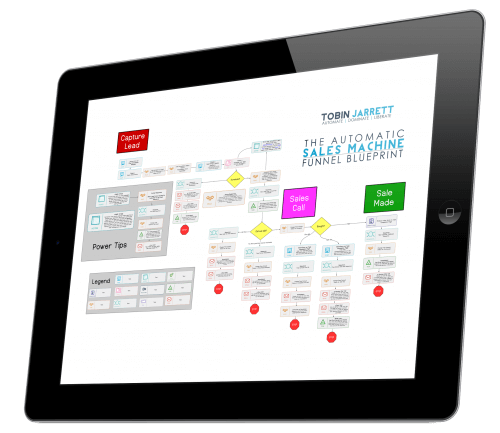 calls, be sure your prospects actually show up for the call, and manage next steps in the process manually, while trying to focus on the craft of being a Jedi salesperson. Inevitably, appointments get missed (by you or them), valuable leads fall through the (ever-expanding) cracks, sales are lost, and money goes bye-bye. A sad fate, indeed. This done-for-you "Automatic Sales Machine" blueprint is the result of hundreds of hours of time spent working one-on-one with some of the most successful online and offline businesses who've paid me tens of thousands of dollars in my consulting business to strategize and automate their entire sales cycle – from lead capture to sale, and everything in between. Boom. This can easily double (or more) your revenue over the first few months and save you and your team a ton of time and stress in the process. Here's how:
Next steps in the sales cycle, like tagging contacts based on the result of the last conversation, following up via email after calls, and setting next calls are all handled automatically…along with reminding prospects of their upcoming call, so, you know, they actually show up for it!
No leads slip through the cracks, ever.
Always who your most valuable (and engaged) leads and customers are.
Know the value of your leads and customers by lead source.
Track which objections are most common over time so that you can sharpen your sword against the ones that come up time and again.
Leads automatically get routed to the perfect sales person (if you've got a team).
After the sale is made, fulfillment happens automatically (for digital products) and nearly totally automatically for physical products!
This liberates you and your team's precious time and creative brilliance to do what really matters – improve your sales chops and create new lead sources, products and you know, grow the business.

Value: $697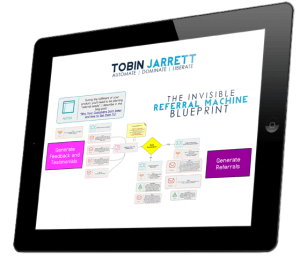 I've developed this system over years of working with hundreds of business clients. This incredible  blueprint contains:
A detailed process map of all the steps you'll need to pull off the strategy, including my Automatic Feedback and Testimonial Generator system!
The exact questions I use to get the best feedback for my clients' businesses.
The exact email copy I use to quell my clients' unhappy customers' tempers so they don't leave negative reviews all over the web.
The exact email copy you can use to make the referral request of your customers.
I've developed this copy over years of working with the top online businesses to maximize their referral results!
Together, these bonuses are worth $1,694, but you can get 'em for free today by signing up for your ONTRAPORT account using my affiliate link!
Here's what to do:
Sign up now using our affiliate link.
Send us an email to ONTRAPORTBonuses@TobinJarrett.com letting us know you've signed up!
We'll verify that we're set as your referrer and get you the goods! Please note certain terms and conditions apply.