ONTRAPORT and Infusionsoft are two of the best business automation tools on the market. Both have exceptional marketing automation, CRM, E-Commerce and affiliate management capabilities intended for small businesses. But that's where the clear-cut similarities end. And one of these tools is better than the other.
To save you some time – the overall winner in 2020 is ONTRAPORT. And it's not only an Infusionsoft alternative, but also an outright replacement. But to really get into the specifics, keep reading.
Sign up for a free trial of ONTRAPORT through us and get the Leg Up Arsenal campaign bundle for free!
Ontraport vs Infusionsoft: Side-by-side comparison 
Here's the important stuff for both platforms with a guest appearance by Keap Pro, the new flagship product meant to succeed Infusionsoft.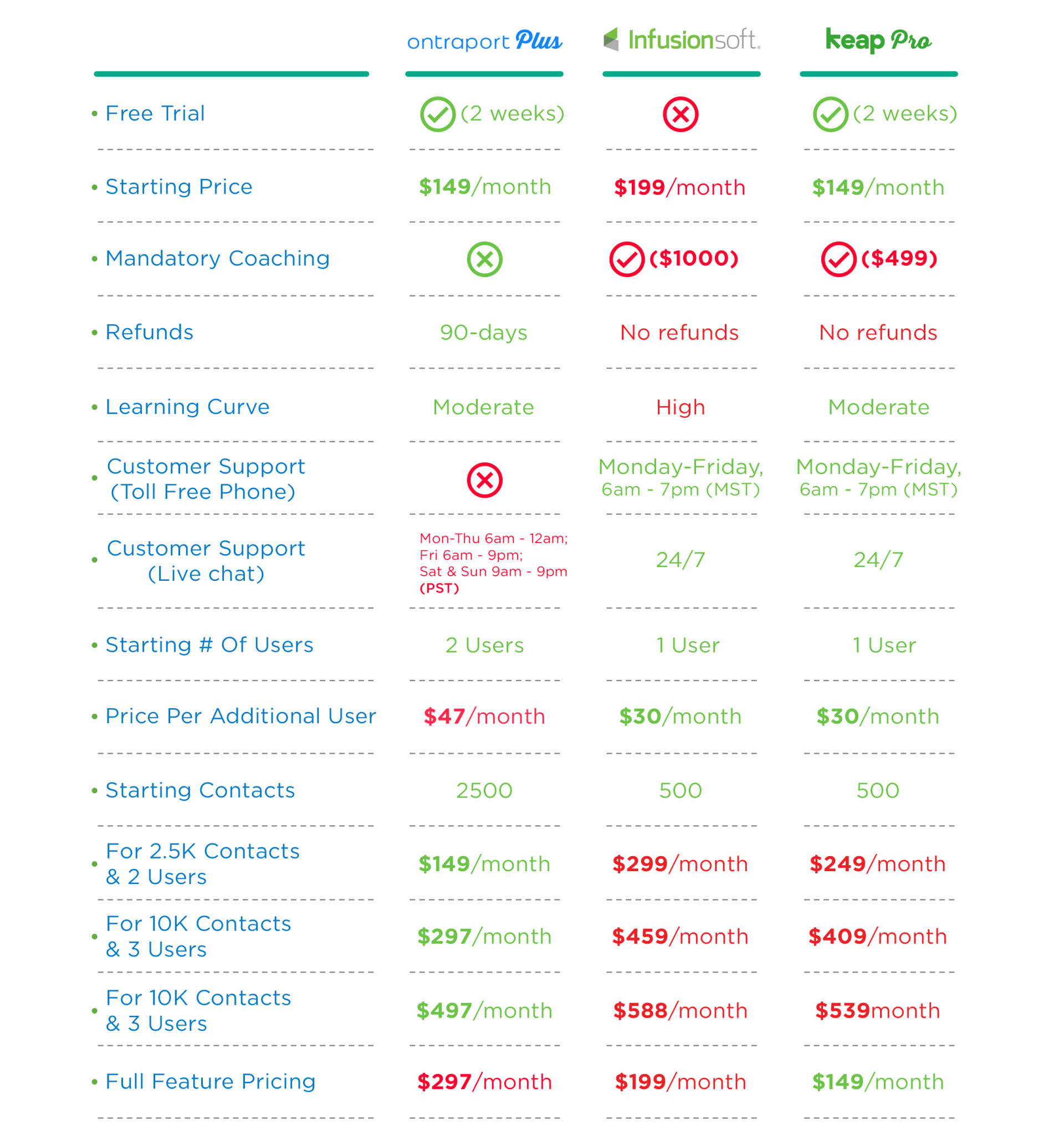 Sign up for a free trial of ONTRAPORT through us and get the Leg Up Arsenal campaign bundle for free!
1. Ontraport has NO barrier of entry
When comparing ONTRAPORT vs Infusionsoft, the first thing you'll notice is that ONTRAPORT has a free trial. This means you can sign up, try the tool, and after two weeks decide if you like it or not, no strings attached. Even if you need a longer time to decide and you get the $79 subscription, you can still get a refund within 90 days. There's literally ZERO risk.
On the flipside, Infusionsoft has no free trial. You have to shell out $199 for the subscription + $1000 for the MANDATORY coaching. But there's no refund. EVER. So it's a very steep $1200 investment for something you might not even like in the first place. And even cancelling the account/billing process is a major hassle, requiring you to notify customer support 10 days in advance. If you simply remove your credit card information, you'll still get billed and pursued by third-party debt collection agencies.
Luckily, Keap Pro has a free trial, meaning the barrier of entry is lower than Infusionsoft's. But again, as soon as you pay for your first subscription of $149, you also have to throw in $499 for the MANDATORY coaching, which still totals to a $649 investment. And since it's made by the same company, there are no refunds here either.
(But wait! What about Keap Grow? To put it plainly, Keap Grow is in a different ballpark altogether. It's the simpler and less functional version of Keap Pro, hovering a level below Infusionsoft and ONTRAPORT.)
2. Ontraport is more affordable overall
No matter how you twist it, both ONTRAPORT and Infusionsoft were built to make money for their respective companies. The key difference between them is that Infusionsoft (Keap) is more unapologetic about taking your money. 
Let's compare the package deals of both platforms for a second. The basic Infusionsoft subscription starts out at $199/month. That's with full functionality, 500 contacts, and just 1 user. To understand why this is kind of pricey, let's take a look at Ontraport's "Plus" subscription. It's for $147/month, has nearly full functionality, 2500 contacts, and 2 users. 
Now, to get the same value for Infusionsoft, you'd have to pay $90 extra ($30 for an extra user, and $60 for 2k contacts), totalling to $289/month. That's almost DOUBLE you'd have to pay for an Ontraport account of the same level. And even if you compare this with Keap Pro, it's still $239/month, almost $100 more than ONTRAPORT.
Not to mention Infusionsoft's over-reliance on 3rd party tools for some features and functionality. So depending on what you're trying to achieve with business automation, you're looking at another $20-$100 per month, bringing the grand total to over $300/month.
3. ONTRAPORT has more useful features and functionality out-of-the-box
When you compare the ONTRAPORT vs Infusionsoft functionality you'll notice an odd pattern. Ontraport is fully functional almost entirely on its own, whereas Infusionsoft (and Keap by extension) needs more 3rd-party plugins and tools to operate on the same level. But even then, Infusionsoft doesn't have all the features ONTRAPORT has.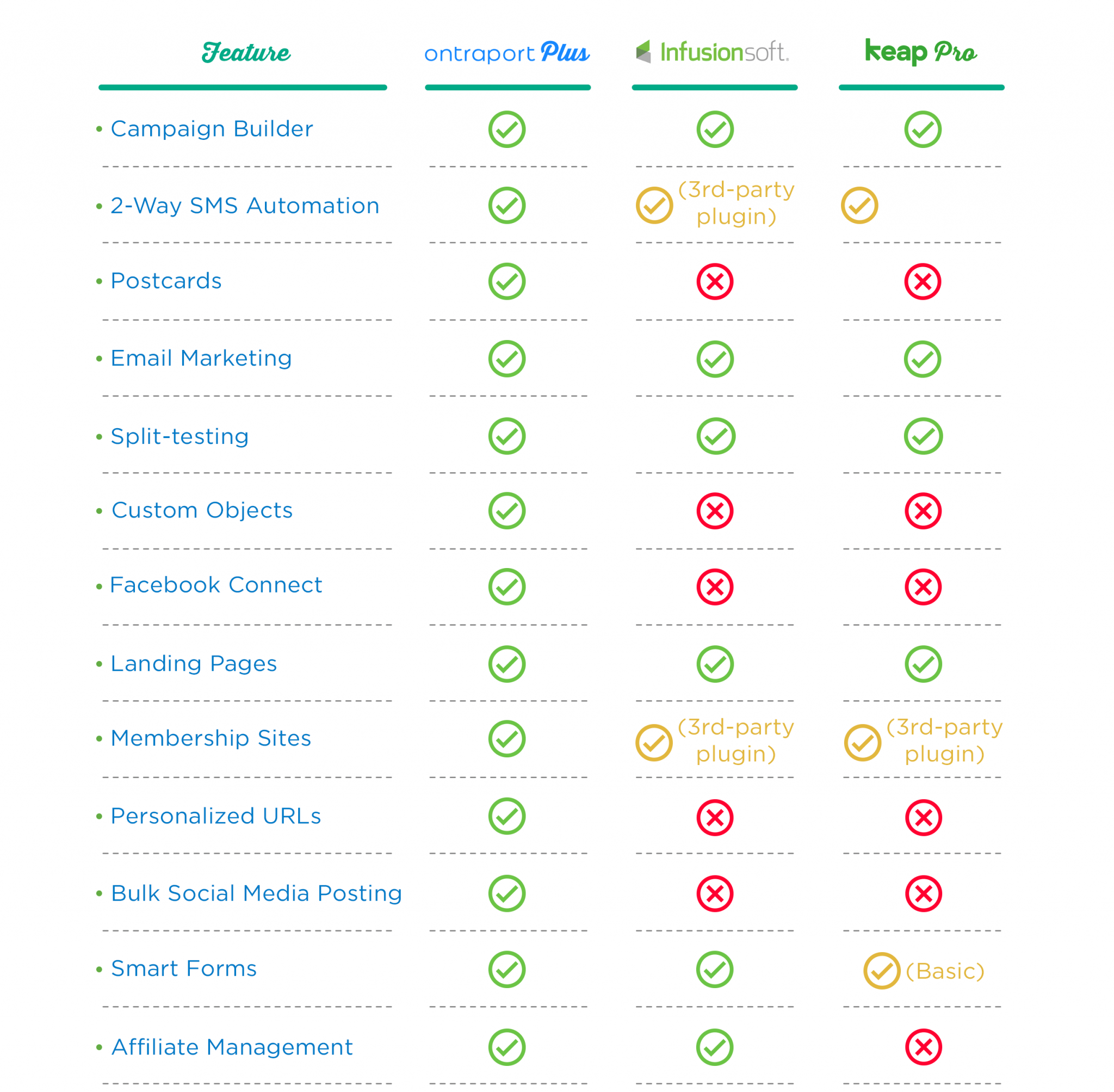 Sign up for a free trial of ONTRAPORT through us and get the Leg Up Arsenal campaign bundle for free!
4. Infusionsoft's (Keap's) customer support leaves much to be desired
When you're getting to know a new tool that's even remotely complicated, customer support can make or break the whole experience. If it's great (or even just decent), you'll have the comfort knowing that you have someplace to turn to if you hit a dead end. But if the customer support is subpar (or downright atrocious), communicating with the customer service 'specialist' will be as much of a headache as the problem you are having, if not worse. 
Then there's Infusionsoft's customer service. Its upside is the 24/7 live chat availability. But the quality of support is wildly inconsistent. You can get lucky and have your problem solved quickly. Or you can land on the unfortunate side of things, losing valuable hours and accomplishing nothing at all. Unfortunately, the latter seems to happen way more often. 
Many Infusionsoft and Keap users report feeling frustrated with their customer service experience. This includes telling and retelling the specifics of their case to new support staff, the sense that they, the customer, know more than the support person they're talking with, and that they don't get the sense that they're being heard, understood, or valued on a personal level by the support team.
But when it comes to Ontraport's customer support, their trained specialists will do everything they can to help solve the problem you're having, provide further suggestions, and make your experience as pleasant as possible. At least, from my own personal experiences with the staff.
5. Ontraport is slightly easier to learn than Infusionsoft
While both tools are incredibly deep and complex profit-making machines, when it comes to learning the ropes and getting started, Ontraport has Infusionsoft beat by a decent margin. 
This is partly due to Infusionsoft's overly-cluttered and unintuitive UI. When you log in for the first time, it's probably one of the most intimidating experiences you can have. There's text and buttons everywhere that don't make all that much sense. When you click on something it's more text and more buttons that keep adding to the overall confusion and intimidation.
It's also because Infusionsoft needs setting up 3rd-party tools, which adds another layer or two in terms of complexity. Purely because you need to learn how to navigate and setup the 3rd-party tool first. But after that you still need to learn how to connect the two.
And while Keap's UI has been streamlined to make learning easier, it still shares most of Infusionsoft's issues, especially when it comes to 3rd-party integrations.
Ontraport, on the other hand, is still plenty intimidating and confusing at first. But this is lessened by the more streamlined and user-friendly interface, which also makes the learning process a tad easier. And fewer/no 3rd-party tools means fewer things you have to learn. 
That being said, even though Ontraport might be easier to learn, it's also harder to master. This is due to its custom objects feature, which lets you go really bonkers with the automation, especially if you're an advanced user. But in most cases, that's something new users might not care about. And when you get to using "custom objects", you'll be ready for it.
Sign up for a free trial of ONTRAPORT through us and get the Leg Up Arsenal campaign bundle for free!
Ontraport might be the winner, but…
Look, I know business automation sounds extremely fancy and all, but even before you weigh your options, choosing between ONTRAPORT, Infusionsoft, Keap, or something else, ask yourself the most important question: "Is my business ready for automation?" 
What I mean to say is – automation is meant for businesses that are already earning money. Automation makes your business machine run automatically and keeps printing those wads of cash. If your startup isn't earning money yet, or even worse, is losing you money, business automation won't be the magical solution you're looking for. So it's not really about picking a winner of ONTRAPORT vs Infusionsoft, but choosing between automation vs no automation.