You're an organization with 10+ employees
You're already very tech savvy and can figure out relatively complex software with ease or you have someone on your team who'll be handling your automation needs
By extension of the above point, you don't foresee needing much customer support
You need the convenience of a drag and drop campaign builder instead of mapping it first and then building it inside of the software
You have a bigger budget to spend on ancillary/add-on apps (while Infusionsoft does many of the same things ONTRAPORT does, a good deal of those functionalities require additional, 3rd-party plugins to handle).
Having one-click upsells fully integrated without additional purchases isn't important to you
You don't mind having to do a few extra steps to run split tests
You need your calendar to be fully integrated with your automation platform
You rely heavily on quotes for your business and feel you need a built-in quote generator
ONTRAPORT May Be A Better Fit If:
You're a "soloprenuer" or  "microprenuer" with 0-10 employees, running lean and light, but desire a system that's able to scale with you
You're a heavy email sender and you know you'd like a private IP
You prefer a more intuitive system with a lower learning curve
Extraordinary Customer Support is important to you
You prefer that the all or nearly all of the business-critical features be included with the basic cost of service (In other words, you don't like the idea of having to continuously buy third party plugins to do things like running a membership site, having 2 way SMS messaging, integrating direct mail, etc…)
Personalized URL's are important to your marketing strategy (so you can track not only how many, but specifically who has responded to a promotion)
Having a responsive landing page builder, built right in, is a priority for you
1. The massive time and money you'll save:
Mark Zuckerberg said that he wants to spend his day performing his highest purpose. He attributes this as one of the reasons for his massive success. The more of your biz-critical operations you can automate, the more time you get to spend hanging out in your unique zone of genius, Zuckerberg-styley. Boom.
Plus, the cash you'll save on payroll once you automate your business will astound you.
2. The extra money you'll make:
When your lead capture, follow up and sales are not systematized and automated, some of those leads and sales will fall through the cracks. That's just the truth. It's like pouring water into a bucket with holes. That means customers and revenue go bye-bye.
Deploying either ONTRAPORT or Infusionsoft gives you a seamless system that'll plug up those holes your leads and customers tend to fall through. Plugging those holes should be prerequisite to spending money to drive traffic to your site and offers.
3. Better customer relationships and appearance:
I'm sure you've heard, the money is in the list. That's only partially true. Actually, the money is really in your relationship with your list. If the folks on your list like, trust and respect you, then you'll be better able to get 'em to buy from you. Simple enough.
Both ONTRAPORT and Infusionsoft position you to more easily create and maintain those relationships, not only because they're being communicated with more frequently, but also because of the awesome power that both softwares give you to target the distinct segments of your list with relevant offers and communications, based on the interests they've demonstrated with their clicks.
Plus, if executed strategically, marketing campaigns powered by either of these softwares can help make yours look like a fortune 500 company to your leads, which inspires confidence and leads to more sales. All good stuff.
4. Accessability:
It may seem like a foregone conclusion, but it bears mentioning that both platforms are SAAS, or "software as a service", which allow for easy online access via any computer with a web connection. This is key for business-on-the-go. Plus, part of what you pay for with your monthly fee is ongoing upgrades. Both companies employ massive development teams that are churning out incredible new features by the week.
Here we will let the two go head-to-head by listing how both compare in each of the categories listed below.
Customer Support:
Okay, I'm starting with customer support, because I think in some ways it's most important. I know that for myself when I'm getting to know a new tool that's even remotely complicated, I like the comfort and confidence that a great customer support team can add.
Full disclosure, I built the customer service team at ONTRAPORT from scratch. I was the first support rep, and hired and trained the next half dozen reps myself. I don't say this just to butter my own bread (although, okay, that too), but because while I was working on support there, and still to this day, I would hear constantly, again and again from clients who were migrating to ONTRAPORT from Infusion, that they were blown away by the level of care, attention, and personability from ONTRAPORT's support team.
Despite the recent massive rounds of venture funding Infusionsoft has taken on over the last few years, I still hear that the experience their support team provides leaves much to be desired. People report feeling frustrated at having to tell and retell the specifics of their case to new support staff, the sense that they, the customer, know more than the support person they're talking with, and that they don't get the sense that they're being heard, understood, or valued on a personal level by the support team.
This could be pivotal in your decision-making process. Especially given we're talking about the platform you'll be using to run so many elements of your business.
Membership Site Functionality:
ONTRAPORT has a nice membership software plugin that comes with it. Extremely handy if you are looking to incorporate a membership site in your business now or in the future.
What's killer about ONTRAPORT's membership site feature is that it ties your website in seamlessly with your ONTRAPORT account, allowing you to protect pages on your site from all but members.
Sell memberships to your site through your ONTRAPORT order forms, and membership levels are automatically added to the new customer, with their login credentials emailed to them directly. Slick.
Plus, their membership can automatically be revoked for nonpayment.
Infusionsoft has no membership system out of the box. There are third party programs that you can purchase, like Merberium, iMember360, and CustomerHub. Each of these has their own host of pros and cons, but that's fodder for another article (or three).
Marketing Automation:
Both Infusionsoft and ONTRAPORT allow you to send automated communications to your leads, prospects, customers, and partners throughout the entire customer lifecycle.
That you stay in communication is critical, but how each of the two platforms allows you to do it is worth a closer look:
Email
Email is great. It's king. No arguments there. Both platforms do email well, with strong inbox delivery.
One important advantage of ONTRAPORT, however, is that it allows big senders to get their own, private, dedicated IP's which can help your inbox delivery. Whereas, Infusionsoft sends all their customers' mail through shared servers. Which, admittedly, enjoy very good inbox delivery rates. But, if you're a stickler for inbox delivery, you send a ton of mail, and you don't want the reputation of other senders to affect your delivery rates, then ONTRAPORT's gonna be your best bet.
Plus, ONTRAPORT's got a killer email template feature called ONTRAmail that makes creating professional, graphic-rich, mobile-responsive email a breeze.
The importance of having your emails be mobile-responsive can be seen in a report by CNN Money which stated that "mobile traffic overtook desktop traffic starting in January of 2014."1  Makes perfect sense. How often do you see anyone without their eyes glued to their phone these days?
Infusion doesn't have anything like the ONTRAmail feature.
SMS (text messages)
SMS follow-up is special and unique unto itself. Especially if you're running events like webinars, or you offer coaching or consulting appointments. A reminder via SMS can do wonders to increase the number of  your people who actually show up to an online event or an appointment.
And the more who show, the more who buy. Simple math (my favorite kind).
Also, what about letting people opt-in to your list via SMS? How cool would it be to simply give someone a phone number and have 'em send a text to get your valuable free resource and join your list? Imagine announcing that number from stage to thousands. No pesky webpage visit needed. ONTRAPORT makes this a snap.
ONTRAPORT includes 2-way SMS message automation out of the box, whereas you'll need a 3rd-party plugin to handle that with Infusionsoft.
Postcards
ONTARPORT also allows you to send real, printed postcards as well. Check this out. What if you could run a promotion where your subscribers got an email that told them to "Wait for it…okay, check your mailbox (like the real one out in front of your house) in 3 days. There'll be a little something special in there for you".
Then, when they found your full color, jumbo, glossy postcard with a laser-targeted offer on it, how much more likely would you be to make that sale? Oodles more likely. (Normally I'm against the word "oodles" but that's what's called for here). Just sayin'.
With ONTRAPORT, you can literally schedule a single postcard to go out in a sequence of other touches (like emails, SMS messages, etc). And when a given contact hits that step in the sequence, then BOOM, a full color, glossy postcard gets sent right to 'em. You can literally have one single postcard sent. That's power like the big boys have, but for pennies.
Infusion doesn't offer postcards or any other direct physical mail. Ouch.
ONTRAPORT allows for seamless integration of your tasks, appointments, contacts, sales and follow up as well, but also has a more robust rules system that responds automatically to client or contact actions throughout a greater range of rule sets.
Personalized URL's (pURL's)
ONTRAPORT allows for personalized URL's (PURL's). This means that you can drive traffic to a page which will actually contain each individual visitor's name right at the start of the URL you're trying to get them to visit. Since we humans are activated by the site of our own names more than most anything else, this can be huge for driving traffic and conversion.
This also allows you the unique benefit of knowing not only how many visited a page, but exactly WHO visited the page, since pURL visits are tracked per contact! Pretty cool.
Infusionsoft doesn't offer pURL's.
Landing Page Builder
If you've been at it for long, you know that even with a nice website, there's still a call for being able to quickly and easily create beautiful landing pages with ease.
If you're just creating a page from scratch on your website each time you need to offer a download link, compel leads to sign up for your webinar or e-book, or thank someone for opting, then you're likely wasting a ton of time. Plus, those pages you set up aren't likely designed for maximum conversion.
You might be using another service, like LeadPages. But with ONTRAPORT, you get beautiful, easy-to-create landing pages included with your subscription. These can save you a ton of time, increase your conversion, and ultimately, boost your bottom line.
ONTRAPages is very reminiscent of the fill-in-the-blank template system used by Lead Pages.
Infusionsoft does have a landing page builder, but it's lacking in a few key ways:
It's far more complex to use and takes longer to build pages with
It's tougher to wind up with professional-looking pages
The pages it produces are not mobile-responsive (won't look great across all devices)
Testing
The necessity of testing cannot be overstated. It's literally how you tell what's working and what's not.
ONTRAPORT's integrated A/B/C/D split testing allows you to test nearly every marketing touch, including your landing pages (so, sales pages, opt-in pages), emails, SMS messages, and even postcards with child-like ease. This allows you to continuously improve your marketing performance (like a boss) over time.
Infusionsoft also allows you to split test your marketing touches, but it involves a bunch of extra manual work to make it work. To quote their product trainer, Jordan in his webinar on how to set up split testing: "Unfortunately there's not a really simple way to set up split testing in Infusionsoft" and "it's not built into Infusionsoft right out of the box". Daunting.
Campaign Builder
For a long time, this was one area that Infusionsoft had Ontraport beat. That is, up 'ti 2017, when Ontraport came out with what is simply the most powerful, flexible, dynamic, and robust visual campaign builder on the market. They took the best of every other builder, removed the problems and limitations, and made what I believe is the single greatest tool available to small businesses anywhere.
Selling Online/Ecommerce:
Shopping Cart
ONTRAPORT offers beautiful, mobile-responsive order forms and integrates with a host of different payment gateways. It does not, however, have a proper shopping cart built right in.
Here's the difference. When I say it doesn't have a proper "shopping cart" I mean that there's nothing that provides your customers the ability to add product X, Y and Z to the cart, and then check out at the end. You (the business owner) have the ability to create order forms that are set up to sell a specific product or products. Your customers can change the quantity of the products that form sells, but they can't add entirely new items to it.
You can set an order form to allow for payment plans, free trials, and subscription billing with ease. Plus, you can set up billing collections systems that recharge your customers if their credit cards decline for an installment.
However, ONTRAPORT does integrate with both Ultracart and 1Shoppingcart quite easily, both of which are full-featured, true carts.
Infusionsoft does have an full-on integrated shopping cart with their "complete" and "deluxe eCommerce" products that will surely handle your basic shopping cart needs. If you're looking for a more complex shopping cart feature for your customers, then a third party shopping cart may still be needed.
Upsells
ONTRAPORT has a fully-integrated 1-click upsell (and downsell) system.
Say the customer buys an initial product, you can easily have them landed on a page offering an upsell product. Best of all, all they need to do is click "yes" and they've bought it with a click. No additional form to fill out. No added friction.
Infusionsoft's upsell, on the other hand, happens inside the order form, itself.
Both accomplish the same result in slightly different ways.
CRM (customer relationship management):
ONTRAPORT's CRM is basic but very functional and includes all the items that the vast majority will ever need and use. If set up strategically, it can be used to streamline the sales efforts of most small business' sales teams.
ONTRAPORT does have a new feature called Custom Objects. This new feature allows you to create custom kinds of objects, instead of just contacts. For instance, you could create an object called "Company" and then mail everyone in the company in a click. Or, say you're a Veterinarian, you could create a custom object called "pets", and when you deal with a "pet" record, by default both of its family members could get the related communications.
ONTRAPORT also has a Facebook connect feature as well. This allows your potential customer to add their details to start the signup process with a click, as their details are populated via the Facebook API.
Infusion's is a more full-featured CRM, with more attention on opportunity tracking throughout the sales process, out of the box. They have two object types: Contacts and Companies, and as far as I know, no plans to allow you to create custom objects.
About the Companies:
Founded in 2004 by Clate Mask, who had been a marketing educator for over 10 years.
Has had 4 rounds of funding, with the latest being 55 million dollars raised by Bain Capitol Ventures.
Their company currently has approximately 30,000 companies and 39,000 individuals as customers using their system.
Their talent pool has been resourced and come over from several other tech and tech management type companies.
Founded by Landon Ray in 2006.
Ray, a serial entrepreneur went from being a flower vendor to one of the nation's top securities day traders in just 12 months. This feat was covered in books, magazines, newspapers and websites all across the country.
The software was actually created from his own needs at first, and then he started allowing others to use the successful systems he had built.
Having survived the worst downturn since the great depression the company is strong, financially sound and looking towards the future.
They've been on the Inc. 500 list of fastest-growing company two of the past four years.
Pros And Cons For Each Company:
No matter what, every company has it's pros and cons, there is no perfect company. Below we will look at the highlights and potential challenges that may lay hidden inside of each, that you would never know until you were already well married to one or the other.
Pros
All-in-one, integrated system that handles the signup, emailing, ecommerce, affiliate orders.
Top notch campaign builder that maps out your processes in a streamlined manner that helps facilitate productivity.
Has a tool called "My Day" which puts your to do tasks and calendar into one central location that is easy to access and use.
Their email builder uses drag and drop technology which may make it easier for beginners to find their way around the email system.
They have a large network of 3rd party application vendors that offer numerous types of add on modules which you may purchase. This typically limits the amount of resources that a company needs to be able to launch and can at times have client needs resolved faster than the company otherwise would have done on their own.
Award-winning customer service.
Gives you the ability to handle all of your email marketing, affiliates, ecommerce and customer resolutions all in one place, without having to hop around from area to area within the program.
Fantastic email deliverability.
Their ONTRAmail feature provides fully responsive emails that look great on any device. +Custom data objects feature in beta, turning it into a dynamic, relational database
Allows you to create landing pages very similar to Lead Pages.
Has a built in membership system that allows for recurring revenues from membership sites.
Integrated postcards
Facilitates easy SMS with two way text messaging.
Visitor tracking from your website that recognizes the customer from your database and allows for a number of preset responses to be triggered.
It's possible to get a private IP for an extra fee. This way you can manage your own IP reputation, to help insure better inbox deliverability with your emails.
You can use personalized URL's
It's super easy to add new fields to your order forms. This cannot be said for both of these companies.
Coupon codes can be issued as group coupons or global coupons and limit their number in each case.
You may turn on one-click Facebook connect so that the majority of the sign up process can be completed automatically for the customer. One significant benefit is that people usually give Facebook their best email address when they join, which means that's the one you get as well.
They've been largely self-funded by their founder, and they run leaner in general, allowing them to be more agile with bug fixes and development.
More robust if-then rules functionality than Infusionsoft.
Cons
There is quite a large upfront training and implementation fee and the learning curve is steep.
They don't offer private IP's so that heavy senders can manage their  own email reputation, instead you've got to bank on the reputation of their shared IP's, which are only as good as the spammiest senders.
They have taken on massive VC funding, which some argue has made them internally bloated, leading to sluggishness with bug fixes and implementation of new features.
The large number of third party vendors that market modules to accomplish more with the system can be a good thing. But this also means you're spending significantly more money to purchase all these nifty additions, which some argue should have be part of their system right out of the box.
While they have a great open API, there are fewer 3rd-party integrations available on the open market that you can add on to take the system further, should you want to. This means that if you want to integrate ONTRAPORT with another app, you may have to hire a developer to build the integration, which can cost anywhere from a few hundred, to a few thousand bucks, depending on the complexity of the integration and who you hire.
Their email builder is standard, not drag and drop. This can take a little more time for non tech savvy users to master.
During the year after they rebranded from Office Autopilot to ONTRAPORT, they suffered a tremendous number of bugs due to the behemoth undertaking that was the upgrade (basically they had to re-create the entire system, plus several massive new features, from scratch). This led to significant loss of confidence by some of their user-base. Since then, they've bounced back big time, but they took a big hit in user confidence during 2014.
Pricing And Initial Setup:
Each of the two platforms would have you perform your set up a bit differently, here are the main points of each so you may decide.
You can sign up online and get going with a few clicks.
Estimated setup time 1 to 4 weeks for initial functionality, and up to several months for full, deep integration of all facets of your business.
Free 2 hour implementation session where you consult with your tech, during which you'll get a deeper understanding of the features as they relate to your specific business, plus a clear list of priorities for you to undertake.
Great training videos and documentation that will walk you through how to DIY.
Access to a growing number of ONTRAPORT Certified Consultants who can work with you to maximize your leverage with the software and decrease the time needed to realize positive ROI from your investment in the platform. I happen to be one of them.
Levels: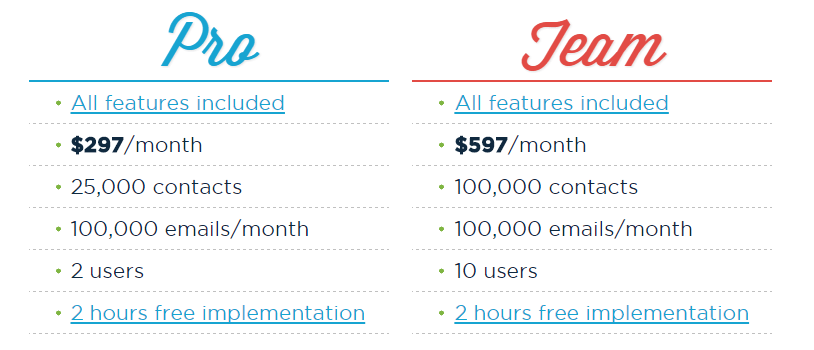 A one-on-one "kick-starter" training program that lasts a full 30 days, with a cost of  $2,000.
You'll receive a customized implementation guide, which you can follow for the next 60 days.
If you have data to import or need your dashboard configured help is provided.
Assistance in setting up your larger areas of impact.
Access to Infusionsoft Certified Consultants who can help you leverage the software in your business.
Training Program:
You have 2 kick starter programs to choose from, each are the same price of $2,000.00 and they are:
Marketing Blueprint
This training is designed for newer businesses who want help creating their marketing strategy and to learn how to implement it.
Automate And Scale
Strongly focused on existing businesses that are looking to use automation to scale up their marketing efforts while at the same time implementing systems to reduce time involvement and costs.
Levels
Essentials: Contact Management – Marketing Automation
2,500 Contacts
12,500 Emails/mo.
3 Users
$199 per month
Deluxe Sales: Contact Management – Marketing Automation – Sales Automation
5,000 Contacts
25,000 Emails/mo.
4 Users
$299 per month
Deluxe Ecommerce: Contact Management – Marketing Automation – E-Commerce
5,000 Contacts
25,000 Emails/mo.
4 Users
$299 per month
Complete: Contact Management – Marketing Automation – Sales Automation – E-Commerce
10,000 Contacts
50,000 Emails/mo.
5 Users
$379 per month
Support:
Toll free phone support Mon – Fri 6am – 9pm PST and Sat – Sun 9am – 9pm PST.
Members forum.
Live chat.
Support ticket system.
Toll free Phone support Mon – Fri 7am – 5pm MST. On the weekends support is limited to live chat.
Live chat.
Support ticket system.
Summary
It's completely up to you which you choose. Both have their strengths and weaknesses like anything or any company.
Sign up for a demo of Infusionsoft right here!
Sign up for a demo of ONTRAPORT right here!
Infusionsoft and ONTRAPORT Review ~
References
1http://money.cnn.com/2014/02/28/technology/mobile/mobile-apps-internet/
2https://blog.kissmetrics.com/email-crushes-social-media/