Back in 2017 I was at Ontraport's annual user conference and met a super sweet couple who'd been using OP for a couple of years. 
A savvy husband and wife team, Simon and Maxine who run a coaching biz out of Australia. 
I asked them what motivated them to fly all the way out from the other side of the globe. 
Their response shocked me, and then made me think.
Turns out they'd come out hoping to gain the skills they needed to tackle what they felt was a complex – but critical – Ontraport project for their business. 
By that point, they'd already been working on that project for nearly three months. They'd start, then get stuck, overwhelmed, and life, kids, and the daily needs of their biz always derailed the proj…once again.
So, they hired an Ontraport VA. She was friendly and confident, but she didn't have the strategic understanding. And she just didn't know the software well enough to handle the project.
Six weeks later, they had a rat's nest instead of the finished project they'd been hoping for. 
But they knew they really needed this project done so they could harness Ontraport's true power in their business.
So they packed their suitcases, dropped the kids at the in-laws, and headed off to the airport. 
Me: "Well? It's the end of the final day…think you learned the skills you need to finally get the dang build done?"
Simon: "Eh…no, actually. But we got something even better. We learned that we have no business continuing to fuss with this ourselves. We love Ontraport, but honestly, what we took away from this experience was that we're just much better off focusing on our 'zone of genius'', and hiring a team that really gets this stuff to do it for us. Maxine and I tallied it up in our hotel room last night. Counting the cost of this trip, we've spent at least $9,200 on trying to get this built, and that's on the conservative side, given what our time and peace of mind is worth. Oh…and that's never mind what it's going to take us to have the mess that the VA created in our account cleaned up! We've realized we were being 'penny wise, but pound foolish.' With that amount of resources, we could've just had it done for us by now. And that's just what we intend to do."
It took serious courage and self-awareness for them to admit that. After all, it'd be super tempting to just keep at it, trying to DIY it, instead of having it done for them, throwing "good money after bad" and just keep grinding away…
Since I'm all about helping my audience gain leverage, I need to ask you…is there anywhere you're trying to DIY something important for your business, when you'd be better off having it handled by pros? 
Really. Take a moment and think about it. 
How much time/money/peace of mind/opportunity/ could you gain or hassles might you avoid if you hire true experts to do it for you?
Do you have a huge Ontraport project you've been trying to do yourself or have a VA handle, but it's just not getting done…or done right? 
Maybe you've put it off for ages. You already know that having it done will make a profound difference in how you're able to run your business, which translates to making you more money and saving you a ton of time and hassle.
At Tobin Jarrett Consulting, we've been building and managing Ontraport projects for over 10 years. 
That's longer than anyone. On. Earth. 
And as the 3rd member of the founding team at Ontraport, and the first-ever Ontraport Expert, I know how to get this work done right.
In fact, here's what Landon Ray, the founder and CEO of Ontraport has to say…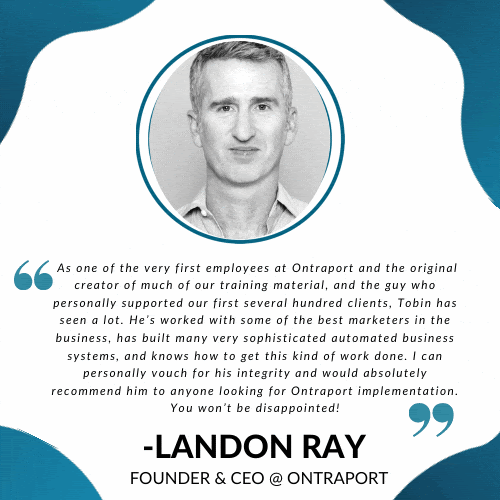 Click here to read more reviews from our happy clients!
But unlike many Ontraport consultants, we offer a full-scale digital agency, specializing in the planning, design and execution, testing and optimization of Ontraport builds. 
From strategy, copy, landing pages, membership sites, campaign creation, to 3rd-party app integrations, we do it all. 
Plus, we provide extraordinary support and crystal clear documentation for our builds. We let you know exactly what we create, so you or your team can make tweaks and create other builds like it in the future.
Have Team Tobin Jarrett rock out your projects, so you can stay in (or get back to) your zone of genius. We've got your back every step of the way. 
Spoiler alert: We're not cheap to work with, but we are great to work with.
got a business? we can help.
we can help you turn your business into a predictable profit machine!

I was the 3rd member of the original founding team at Ontraport. 
For nearly a decade, my team and I have been helping entrepreneurs turn their businesses into predictable profit machines through great strategy and implementation. 
We focus on designing strategic systems that drive revenue and profit, and save you time and hassle. We've got a variety of programs available for everyone, from the solopreneur just starting out to the multi-7-figure juggernaut looking to scale up even more! Click below to learn how we can help you!
Thinking of becoming an Ontraport user? Smart.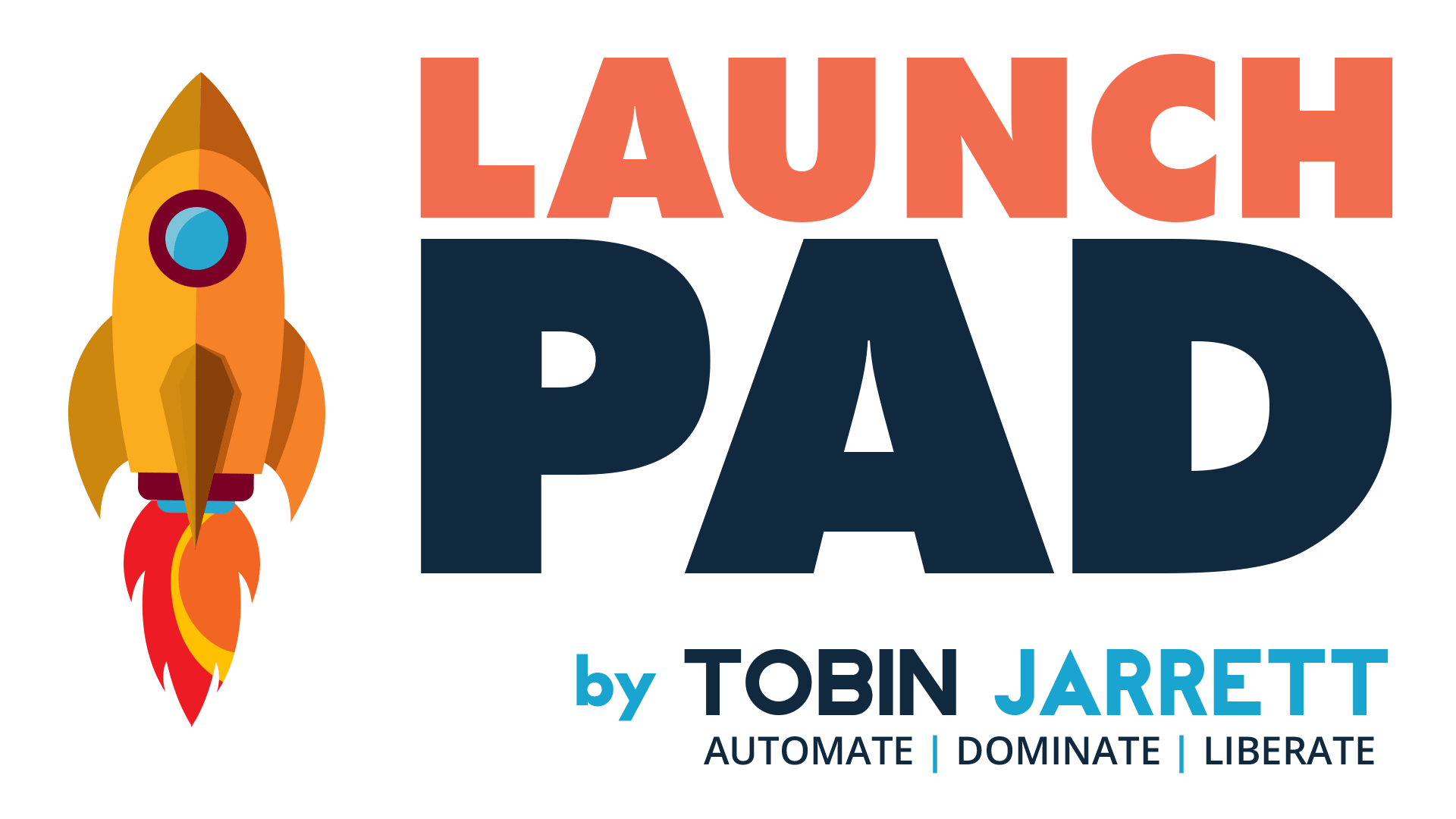 We've got you! Ontraport is our favorite all-in-one online marketing platform. Best of all, you can sign up for a FREE TRIAL of Ontraport through us and you'll get LaunchPad – our incredible bundle of valuable bonuses worth $1,982.
Click here to learn more. Note that you must follow the instructions on this page to qualify for the bonuses!