Honest question: What happens when you get a lead?
"Uh…they're sent whatever they opted in for."
Okay. Then what?
If the answer is anything other than:
"They're sent a sequence of emails over the coming week or two that have them fall in love with me and by biz…"
…then you're throwing money away. Period.
Real talk: You have a critically important opportunity, when someone first opts in to your list. It is at this precious moment when you and your business are on their mind. 
And if all you do is send 'em a signal email with whatever they opted in for, then you are throwing away your shot, as Alexander Hamilton might say.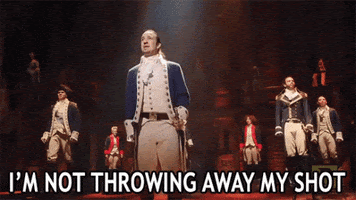 Here's what to do instead:
Write a series of emails that does the following:
Introduces you and your business (in an authentic, human way)

Demonstrates your expertise

Gives massive value, with links to your "greatest hits" blog posts, video trainings, podcasts, a free trial of your product, or something else worth their time 

Shows off that special "you-ness" that makes you stand out from the crowd

And begins to educate them about what else you offer, and gives them an opportunity to move the relationship to the next level with a call to action (e.g., "hit reply," "book a call," "sign up for my webinar," etc.). This last one should be done with care. Think of this little series like the first few dates. You don't want to be pushy with your offer(s) or you'll turn people off and you'll lose the chance for more dates (er…business).
In short, this sequence of emails is meant to turn strangers into Believers! If you do this right, you'll go from "just some lead magnet I got and then completely forgot about" to actually being remembered as a real person/business in the minds of the leads who go through this. 
And those who are actually your ideal leads will be far likelier to become your client or customer. Whether in a week or a month or a year. 
In fact, "The Believer Sequence" is one of the funnel templates that comes with the Leg Up Arsenal. It comes with pre-written emails, step-by-step training videos that walk you through how to customize it and how to nail the strategy. Like all of our templates, it saves you a ton of time and spares you from the dreaded blinking cursor on the blank page.  
What is The Leg Up Arsenal? It's the premier funnel template and coaching program exclusively for Ontraport users who want to get better results and drive more sales with less hassle. For less than a tenth of the cost of a low-level hire, you can have a suite of battle-tested, results-driving campaign funnel templates in your account (with a click), along with step-by-step video tutorials, plus coaching from me (personally) with my hands in your account, my eyes on your campaigns, systems, and strategies, coaching you (or your team), every. single. week.  
Just now, we're closed for registration but we're going to be opening up registration in a few weeks. Go here to learn more and get on the waitlist!
got a business? we can help.
we can help you turn your business into a predictable profit machine!
I was the 3rd member of the original founding team at Ontraport. 
For nearly a decade, my team and I have been helping entrepreneurs turn their businesses into predictable profit machines through great strategy and implementation. 
We focus on designing strategic systems that drive revenue and profit, and save you time and hassle. We've got a variety of programs available for everyone, from the solopreneur just starting out to the multi-7-figure juggernaut looking to scale up even more! Click below to learn how we can help you!
Thinking of becoming an Ontraport user? Smart.
 We've got you! Ontraport is our favorite all-in-one online marketing platform. Best of all, you can sign up for a FREE TRIAL of Ontraport through us and you'll get LaunchPad – our incredible bundle of valuable bonuses worth $1,982.
Click here to learn more. Note that you must follow the instructions on this page to qualify for the bonuses!